Superbowl for Dogs - ORGANIC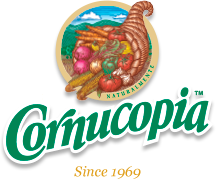 Superbowl for Dogs - ORGANIC
Now Available in New 6.0oz Cans!
Same great products. Now, in a smaller option. Choose between 12.8oz or the new 6.0oz cans.
The Gold Standard
in all natural dog & cat food
Cornucopia Superbowl is made with the highest quality HUMAN-GRADE, Non-GMO, Certified Organic Chicken, Certified Organic Turkey, Certified Organic Pumpkin, Certified Organic Sweet Potatoes and Certified Organic Carrots. We want nothing but the best for your pet child!  Superbowl is formulated for dogs and cats of all ages and surpasses nutritional requirements to give your child pets the purest, most non-toxic high protein formula using absolutely minimal amounts of carbohydrates with no fillers, and no sugar so you get more for your money! 
All of Cornucopia Pet Foods, including Cornucopia Superbowl, contain no preservatives.  Our food is produced and packaged in a steel vacuum which preserves the contents of the can for years.  
Cornucopia Superbowl is Certified Organic by Oregon Tilth, a third-party organic certifying agency – ensuring that every ingredient used is of the highest standard and the purest quality for your pet.
Constantly eaten by Dr. Broderick himself, Cornucopia Superbowl is Real Food made for pets that is non-toxic, allowing pets to live a longer, healthier life through the power of Metabolizable Energy (measured in kilocalories: 1,000 calories per kilogram of food) and preventative nutrition. One can of Cornucopia Pet Food contains more Metabolizable Energy than any pet food on the market. That means you can feed your animal less, and stretch your budget further. This along with the other Cornucopia products are the SAFEST foods for Pets on Earth!
Healthy protein
Superbowl for Dogs - Organic gives your dog nutrients in a food every dog can metabolize, meat and fish. A dog's body actually can use tiny amounts of grains for energy, but most of the grains in dry dog food end up as carbohydrates your dog's body can't use, just passing on through. 
Superbowl for Dogs - Organic is free of corn, wheat, soy, gluten, and meal product, focusing on the meat, fish, egg, and healthy plant food your dog needs for both healthy muscles and lots of energy.
The healthy protein in Superbowl for Dogs - Organic also makes it a superbowl for cats. You probably know that cats can't use carbohydrates for energy. Their bodies make glucose from the leftover amino acids from protein foods. A dog's body can use limited amounts of grains and other kinds of carbohydrate foods to make glucose. A cat's body cannot. 
A cat's body cannot shut off the process that turns protein into fuel. Cats can die of starvation, in some circumstances, in as little as 24 hours without the protein food they need. They won't look emaciated. They may even be fat. But deprivation of the protein, not carbohydrates, a cat needs for energy can quickly have fatal consequences.
But Superbowl for Dogs - Organic, which doubles as Superbowl for Cats - Organic, does so much more than just providing protein in a form so delicious and wholesome you could eat it yourself.
Rich in fibers
Superbowl for Dogs - Organic contains prebiotic plant fibers. Dogs and cats, like people, depend on the presence of healthy bacteria in their digestive tracts to stay regular, manufacture vitamins, and even produce some fats for ready energy like butyric acid. 
Superbowl for Dogs - Organic contains pumpkin and carrot, two foods that are the prebiotics that probiotics need to thrive. Cornucopia's Superbowl for Dogs - Organic feeds probiotic bacteria that feed your dog and cat with vitamins and healthy fats and protect against constipation and food poisoning.
Superbowl for Dogs - Organic also comes in convenient 6-ounce cans, the perfect serving size for mature cats and small dogs. Buy Superbowl for Dogs - Organic to stock up on the nutritious food your pets will love.
Why Cornucopia is the healthiest choice for your pets:
No By-Products
No Farmed Fish
No GMO
No Antibiotics
No Rendered Meals or Food Waste
No Hormones, Pesticides, or Herbicides
No Artificial Sweeteners, Colors, or Flavors
No Euthanasia Drugs or Drugs of Any Kind EVER in our Food!
No Preservatives
No Gluten
No Sugars
No Meal
No Wheat, Corn, or Soy
No Carrageenan
No Aspartame, MSG or "Natural Flavors"
No Euthanized Animals of Any Kind EVER in our Food!
---
OUR
Ingredients
Over 90%
Animal Protein
Chicken

+

Chicken Liver

+

Turkey

+

Oats
Ingredients
Organic Chicken, Organic Chicken Gizzards, Organic Chicken Livers, Organic Chicken Hearts, Organic Turkey, Organic Oat Fiber (Source Of Fiber And Prebiotic), Organic Carrots (Source Of Fiber), Organic Tapioca, Organic Guar Gum, Organic Stahlbush Island Farms Pumpkin (Source Of Color, Fiber & Beta Carotene), Himalayan Mountain Crystal Salt, Organic Sweet Potatoes, Organic Yeast Powder, Organic Whole Brown Eggs, Premix Vitamin, Premix Mineral.
Vitamins
Vitamin E Supplement, Niacin, Thiamine Mononitrate, Calcium Pantothenate, Vitamin A Acetate, Folic Acid, Riboflavin, Biotin, Pyridoxine Hydrochloride, Vitamin B12 Supplement, Vitamin D3 Supplement.
Minerals
Zinc Sulfate, Zinc Proteinate, Ferrous Sulfate, L-Ascorbyl-2-Polyphosphate, Copper Sulfate, Manganese Sulfate, Copper Proteinate, Sodium Selenite, Manganese Proteinate, Potassium Lodide.
In addition to the above minerals, all of our Cornucopia Foods contain 84 chelated, raw minerals from the Wildcrafted Himalayan Mountain Salt crystals that have been buried in caverns within the Himalayan Mountains and untouched by the Earth's environment for over 250 million years. This is vastly different than modern sea salt and table salt.
Crude Protein (Min)
12.00%
Moisture (Max)
74.00%
Crude Fat (Min)
8.00%
Crude Fiber (Max)
2.00%
Carbohydrates (Max)
2.00%
Metabolizable Energy
1,500 Kcal/Kgm - 700 Kcal/12.8oz. can
Guaranteed
Analysis
Guaranteed Analysis is the pet food industry's version of Nutrition Facts that are printed on every package. Under AAFCO regulations pet foods are required to guarantee the minimum percentages of crude protein and crude fat, and the maximum percentages of crude fiber and moisture. This allows consumers to easily compare the nutrients in the food they're buying.
---
---
Call Doc!
(631) 546-6587
Have a question for Doc?