---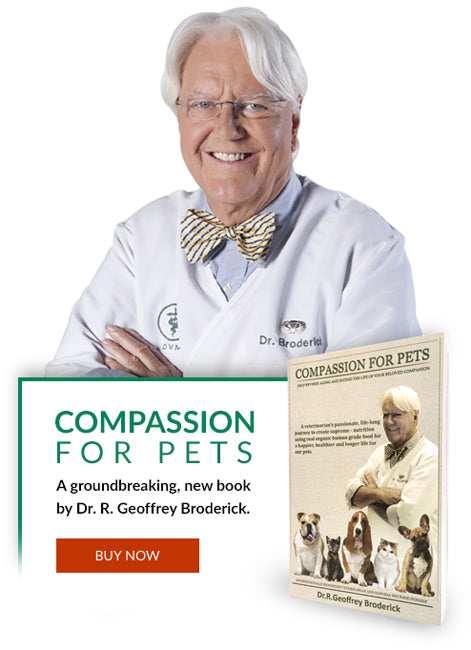 Meet Doc
"Your pet comes first. That's my belief system."
Dr. Broderick is in his 51st year as a practicing veterinarian. A leader in the natural pet food movement and outspoken critic of harmful additives in commercial food, he is world renowned as the expert in natural pet nutrition. His mission: to improve the wellbeing and lifespan of your pet. His Cornucopia™ products are considered by many to be the best all-natural pet foods in the world. No added chemicals, artificial flavors, colors, preservatives, sweeteners, or sugars. Packed with nutrients, all-organic, human-grade. That's the Cornucopia™ difference. "My products have the synergistic effect to improve the health and wellbeing of cats and dogs of all ages." The average lifespan for pets in Doc's practice is 18. He's going to pass 20.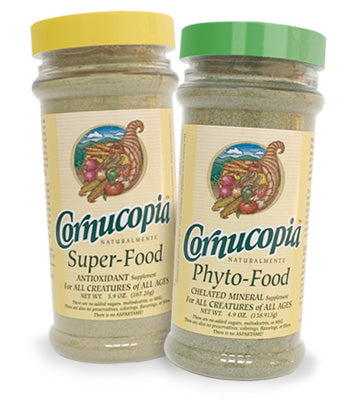 Super-Food & Phyto-Food Combo
Doc Broderick designed Cornucopia Supplements to give your pet the nutrients it needs to live a healthier, longer life. Super-Food antioxidant is based off of the Mediterranean Diet and Phyto-Food immunity support is based off of the Pacific Rim Diet. They should be used in combination and served in equal amounts.
Buy Now
Combining these two supplements gives your pet more:
Health Benefits
Nutrients
Protection from Diseases
All-Natural Organic Dog Food
Taking care of your dog's digestive system starts with the right types of food. Good nutrition has a direct impact on the way your dog grows, the health of their coat, their activity, and their potential to live a long, healthy life. Our all-natural organic dog food helps support the foundation of canine nutrition by providing a balanced diet of proteins, fats, carbohydrates, minerals, and vitamins, all of which are essential to help their body function normally and boost their body's natural processes. Why buy natural and organic food? There are a number of benefits to consider:
Reduced allergies and skin conditions
Fewer digestive issues
Better overall health
Stronger immunity
Enhanced quality of life
There must be a proper balance of these nutrients in your dog's food to keep them healthy. Cornucopia addresses your dog's muscle tone and body condition, the health of the skin and coat, digestion and elimination, and your dog's immune system. Cornucopia also offers an array of flavors to keep your dog's appetite healthy all year long.
Shop Dog Food Now!
All-Natural Organic Cat Food
Your cat's diet is vitally important to their overall health.  Feeding your cat wet food will provide them with better hydration, support a lean body mass structure, and prevents obstructions in their digestive system. Giving your cat the healthiest options makes a difference in a number of ways. Did you know your cat's fur directly reflects their health and nutrition? Cornucopia cat food helps add a healthy shine, decreases allergy problems, and increases overall energy levels.
No matter what stage of life your cat is in, the selections from Cornucopia help sustain their health. Cats need water in their diet but often do not get enough from most cat foods available on the market, and they end up consistently losing what water they do have through their daily bodily functions. Cornucopia focuses on maintaining their health through food that provides the regular moisture intake they need along with a diet rich in unprocessed proteins and water. With no pesticides or harmful chemicals, your cat's quality of life increases while you give them a healthy variety of foods to eat.
Shop Cat Food Now!
Vitamins & Supplements for Your Pets
Caring for your pet isn't just about providing exercise and feeding them – it's about making sure they are in the best possible health by getting the nutrients and minerals needed to thrive. Pets can have the same issues as humans. They can experience joint pain, digestive issues, and more. Supplements add the nutrients they need to their diet, while vitamins help perform specific functions like promoting resistance to diseases, regulating body functions, and keeping the body healthy.
Dogs typically need Vitamin A, B vitamins, Vitamin C, Vitamin D, Vitamin E, Vitamin K, and Choline as part of their diet. Meanwhile, cats need vitamins such as niacin, Vitamin A, B vitamins, and Vitamin D. Because both have different dietary requirements, they should be given what will work best for their digestive systems. Dr. Broderick has taken the time to intensely study both animals to determine their needs, preparing vitamins and supplements that address every need, accounting for their nutritional requirements, activity levels, age, genetic issues, and potential health problems. All of these factors play a role in the types of vitamins and supplements that should be given to your pet.
Shop Supplements Now!
The Benefits of Cornucopia
Understanding the intricacies of pet health can be challenging. Dr. Broderick takes all the questions and guesswork out of the equation, providing effective solutions for enhancing the quality of life for your pets. Most ailments pets experience can all be traced back to the type of food they eat, and having a knowledgeable expert who understands what pets need to thrive can make all the difference.
From the moment your pet starts eating our food, the Cornucopia formula helps with their digestive system and nutritional needs. There are many ailments your pets may experience that can be attributed to the food they eat. Cornucopia makes a difference through the careful study of the types of meats, vegetables, and grains beneficial to their growth and quality of life. There's nothing better than providing the right foods for your pet. At Cornucopia Pet Foods, you and your pet get this and so much more.
Learn More About Our Ingredients!
Dog and Cat Diet and Nutrition
Download Guide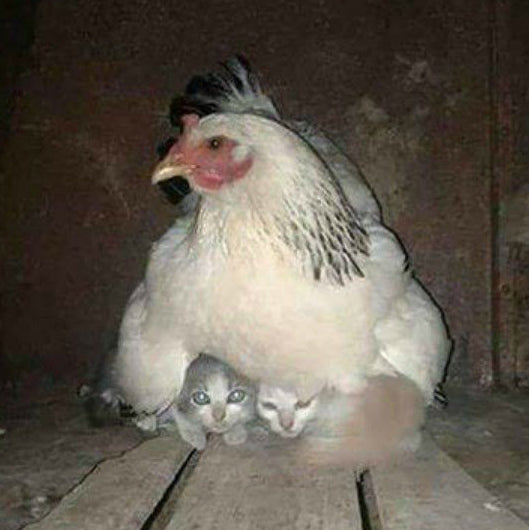 Let this chicken a child of God set an example for all of us
This chicken is nothing less than a mother Who is Caring for two other baby children of God without seeking any reward except the knowledge that she is still in possession of the basic instinct given to all animals by nature and God. She Will never know how world famous she has become so let's just call her Teresa.