Organic Vegetable Powder - Pet Immune System Booster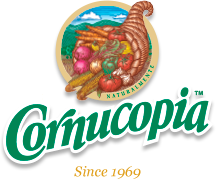 Organic Vegetable Powder - Pet Immune System Booster
***During this time of international stress caused by COVID-19, Doc is giving everyone a special gift of Organic Vegetable Powder to help boost immune systems.  BUY 2 AND DOC WILL GIVE YOU THE 3rd ONE FOR FREE (a $101 savings). ***
Organic Vegetable Powder
Give your pet the best in health and immunity to fight off viruses and infections with Cornucopia Organic Vegetable Powder. The goal at Cornucopia is to focus on high-density nutrients in order to boost your dog or cat's immunity fast. See more reasons why you should choose Cornucopia Organic Vegetable Powder as a supplement to support your pet's overall health and wellness. Save yourself money with fewer visits to the veterinarian thanks to this easy-to-use powder formula. 
About Cornucopia Organic Vegetable Powder
Cornucopia Organic Vegetable Powder features concentrations of freshly picked and dried broccoli (80 percent) and radish (20 percent). These vegetables join forces for health in this food powder and pet supplement. It features only whole food ingredients that are non-GMO. As Certified Organic, the vegetables are grown in soil, pesticide-free, and without herbicides.
Uses for Organic Vegetable Powder
The primary uses of Cornucopia Organic Vegetable Powder are to supplement the food diets of pets, including dogs and cats. If your pet is aging or has weak joints, consider using this dietary supplement.
Benefits of Pet Supplements
The reason why pet owners choose Cornucopia vitamin supplements is to increase nutrition for pets. This pet supplement is an all-natural powdered food that is chock full of vitamins and minerals. Nutrient intake per serving is 51,600 IU/100g Vitamin A from beta carotene to improve eyesight. Compare this to fresh broccoli, which has 623 IU/100g and is less digestible for pets. Other vitamins and minerals in this vegetable powder for pets include:
Sulforaphane from broccoli has a range of health benefits and includes reducing cellular damage and supporting respiratory functions to ward off asthma.

Vitamin C is another major mineral in this pet supplement and is necessary for immune support.

Vitamin E is in abundance and critical for a smooth and shiny coat.

Vitamin K is important for blood circulation and heart health and is found naturally in dark greens like broccoli.
Why Choose Cornucopia Organic Vegetable Powder
Cornucopia Organic Vegetable Powder is the right choice for dogs and cats. Adding this pet supplement to their diet is as easy as sprinkling on a discreet powder. It tastes great and brings a new vitality to pets who are also eating a healthy diet brought to you by Cornucopia.
Organic Vegetable Powder is organic, non-GMO, grown WITHOUT pesticides, herbicides, or insecticides. It is harvested and dehydrated immediately which ensures the integrity of all the live components of the plant. It offers high density nutrients including 51,600 IU/100g Vitamin A, beta carotene in comparison to freshly picked mature broccoli which has only 623 IU/100g.
100% Organic

Non-GMO, No Pesticides, No Fertilizer, Soil Grown
Vitamin A, Beta Carotene, C, E, K, Sulforaphane
Ingredients: Certified Organic Broccoli, Certified Organic Radish

80% Broccoli / 20% Radish



Net wt.: 1 oz / 28g
Serving Size: 1 tsp
Recommended dose: 2 tsp/day
Note: 1 ounce is approximately 25 teaspoons
Important Announcement
Cornucopia In Creations Magazine
---