Slow Roasted Organic Chicken & Liver - ORGANIC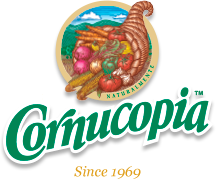 Slow Roasted Organic Chicken & Liver - ORGANIC
Now Available in New 6.0oz Cans!
Same great products. Now, in a smaller option. Choose between 12.8oz or the new 6.0oz cans.
The Gold Standard
in all natural dog & cat food
Cornucopia Slow Roasted Organic Chicken & Liver is made using the highest quality HUMAN-GRADE, Certified Organic Chicken, Certified Organic Pumpkin, Certified Organic Sweet Potatoes and Certified Organic Carrots.
We want nothing but the best for your pet child!  Our Slow-Roasted Organic Chicken & Liver is formulated for both cats and dogs of all ages and supplies optimal nutrition with a pure, non-toxic, high-protein formula with minimal carbohydrates and no fillers or sugar.  
This food is Certified Organic by Oregon Tilth, a third-party organic certifying agency, so you can rest assured that every ingredient is of the highest standard and the purest quality for your pet.
Cornucopia's Chicken & Liver is so clean and nutritious, it's eaten by Dr. Broderick himself. One can of Cornucopia Pet Food contains more Metabolizable Energy than traditional pet food on the market. Better food means more energy and a healthier pet.
The Benefits of Liver for Dogs:
Omega-6 essential fatty acids in liver keep your dog's skin healthy and coat glossy.
Omega-3 essential fatty acids that prevent inflammation in your dog's joints.
Liver provides arachidonic acid dogs need for an active immune system.
Liver is a great source of vitamin A, which is essential for skin and immune system help.
Liver is an excellent source of vitamin B12 which helps your dog make the compounds that protect neurons in its brain and form healthy red blood cells. As dogs get older, they have trouble absorbing vitamin B12 from food.
Liver makes it easier for a dog's aging stomach to generate enough of the "intrinsic factor" that transports B12 into your dog's bloodstream.
The best benefit: Dogs love the taste of liver!
The Benefits of Liver for Cats:
Cats are completely dependent on food for vitamin A and liver is a great source.
Vitamin A in liver keeps skin, eyes, and the linings of the mouth, nose, and reproductive organs healthy.
Liver and vitamin A activates cat's immune system. They have to get their vitamin A from animal fat, milk fat, or liver.
Cats are uniquely susceptible to liver damage when they don't eat foods of animal origin. They can begin to suffer serious liver problems in just 24 hours if they don't get animal-based protein and fat. Liver is the perfect food for preventing liver damage in cats.
And of course: Cats love the taste of liver, too. When they catch wild animals they will eat liver first. You can't go wrong feeding your kitty liver or chicken.
Why Cornucopia is the healthiest choice for your pets:
No By-Products
No Farmed Fish
No GMO
No Antibiotics
No Rendered Meals or Food Waste
No Hormones, Pesticides, or Herbicides
No Artificial Sweeteners, Colors, or Flavors
No Euthanasia Drugs or Drugs of Any Kind EVER in our Food!
No Preservatives
No Gluten
No Sugars
No Meal
No Wheat, Corn, or Soy
No Carrageenan
No Aspartame, MSG or "Natural Flavors"
No Euthanized Animals of Any Kind EVER in our Food!
---
OUR
Ingredients
Over 90%
Animal Protein
Chicken

+

Chicken Liver

+

Rice Bran
Ingredients
Organic Chicken, Organic Chicken Gizzards, Organic Chicken Livers, Organic Chicken Hearts, Organic Rice Bran (Source Of Fiber And Prebiotic), Organic Tapioca, Organic Carrots (Source Of Fiber), Organic Guar Gum, Organic Stahlbush Island Farms Pumpkin (Source Of Color, Fiber & Beta Carotene), Himalayan Mountain Crystal Salt, Organic Yeast Powder, Premix Vitamin, Premix Mineral, Taurine.
Vitamins
Vitamin E Supplement, Niacin, Thiamine Mononitrate, Calcium Pantothenate, Pyridoxine Hydrochloride, Vitamin A Acetate, Riboflavin, Folic Acid, Vitamin B12 Supplement, Biotin, Vitamin D3 Supplement.
Minerals
Zinc Sulfate, Zinc Proteinate, Ferrous Sulfate, L-Ascorbyl-2-Polyphosphate, Copper Sulfate, Manganese Sulfate, Copper Proteinate, Sodium Selenite, Manganese Proteinate, Potassium Lodide.
In addition to the above minerals, all of our Cornucopia Foods contain 84 chelated, raw minerals from the Wildcrafted Himalayan Mountain Salt crystals that have been buried in caverns within the Himalayan Mountains and untouched by the Earth's environment for over 250 million years. This is vastly different than modern sea salt and table salt.
Crude Protein (Min)
13.00%
Moisture (Max)
69.00%
Crude Fat (Min)
12.00%
Crude Fiber (Max)
2.00%
Carbohydrates (Max)
1.00%
Metabolizable Energy
1,900 Kcal/Kgm - 700 Kcal/12.8oz. can
Guaranteed
Analysis
Guaranteed Analysis is the pet food industry's version of Nutrition Facts that are printed on every package. Under AAFCO regulations pet foods are required to guarantee the minimum percentages of crude protein and crude fat, and the maximum percentages of crude fiber and moisture. This allows consumers to easily compare the nutrients in the food they're buying.
---
---
Call Doc!
(631) 546-6587
Have a question for Doc?